How many people in Quebec have been vaccinated against COVID-19?
This tracker can help you follow the progress of vaccination in Quebec
Pour visiter le site en français:
FR
---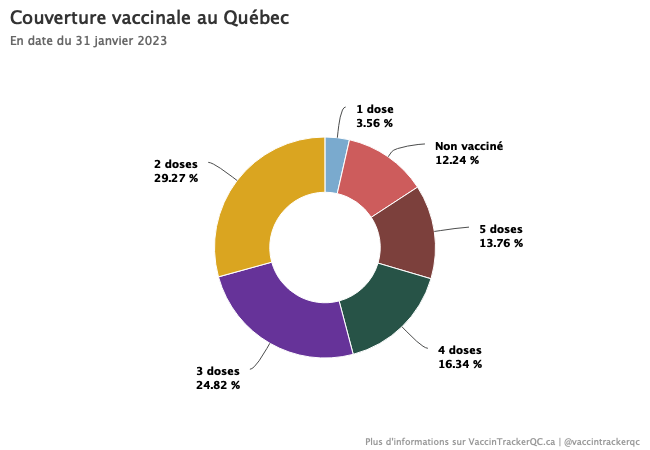 ---
🤖 : 1562 hospitalisations (-37) dont 53 personnes aux soins intensifs (+5) (en date du 19 mai 2022)
---
Updated on May 19, 2022 at 11a.m.
Situation in Quebec
(include vaccinations outside Quebec)
In Quebec
≥1 dose
≥2 doses
3 doses
By age group
By age group (with scheduled appointments - 1st doses)
By taking into account the scheduled appointments, the vaccination coverage (≥1 dose) is
Goal 75% (3 doses, by age group)
With the current pace of administration of third doses, when 75% of vaccination coverage (3 doses) will be reached in each age group?
Per age group and region
To visualize vaccination coverage per age and region in details
5 to 11 age group
≥1 dose
Adequately vaccinated
Adequately vaccinated + booster dose